What Is The Best Beta-alanine Supplement of 2022?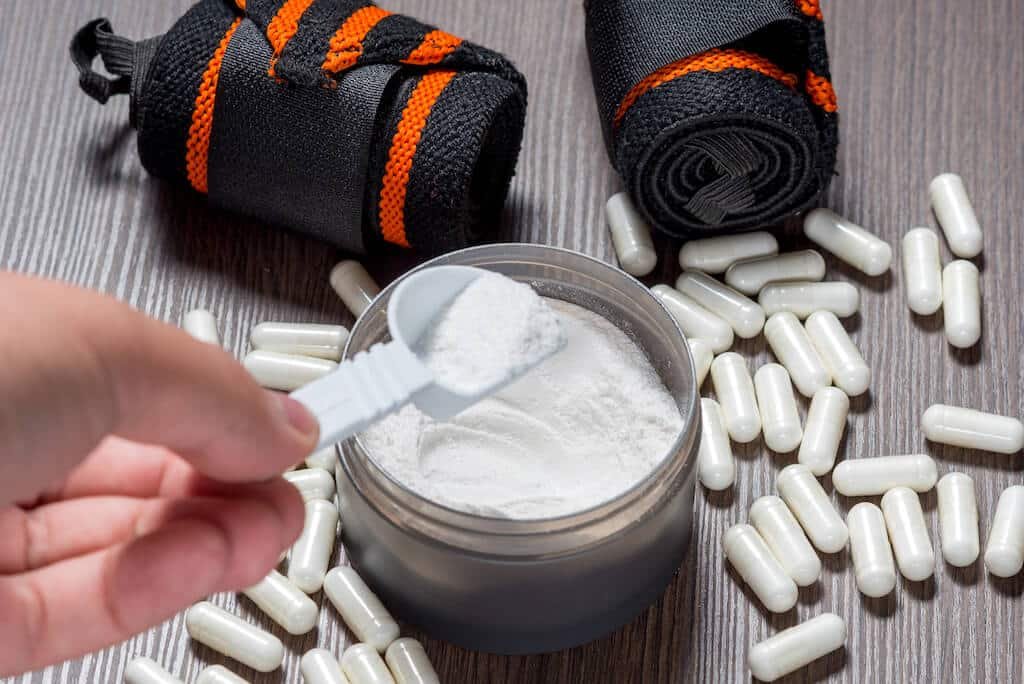 Beta-alanine is a non-essential amino acid that has become widespread among gym goers. It allows muscles to raise their Carnosine store in response to intense efforts.
Although the human body is able to synthesize it and it's found in meat, intensive training requires adding Beta alanine supplement to one's regimen, especially for vegan athletes.
In this article, we're going to review 5 Beta alanine brands to pick the best Beta-Alanine supplement of 2022.
Preview
Best Choice
Details
250 grams; 5OO servings; 500 mg per serving
300 grams; 100 servings; 3 gram per serving
500 gram; 250 servings; 2 grams per serving
300 vegetarian capsules; 500 mg per capsule
240 capsules, 1,600 mg per capsule
The Best Beta-Alanine Powders and Capsules Supplements
Below a closer look at each supplement from our comparison table above.
Nutricost Beta-Alanine Powder
Nutricost Beta-Alanine Powder
300 Grams of Beta Alanine Per Bottle
3 Grams Per Scoop (Included)
Pure, High Quality Beta Alanine Powder
Non-GMO, Gluten Free, 3rd Party Tested
Made In a GMP Compliant, FDA Registered Facility
The Beta alanine from Nutricost has many advantages to offers including its serving of 3 grams and, its price and the fact that is made in the USA.
The container comes with 300 grams at a good price.
PROS
3 grams per serving

Made in the USA

Price

Unflavoured powder

No Fillers

Vegetarian and Halal
CONS:
Can be difficult to drink
Bulksupplements Pure Beta-Alanine Powder
The BulkSupplements brand offers one of the best selling Beta alanine on the market.
The bag contains 500 servings of 500 milligrams of pure and clean Beta alanine with no fillers.
PROS
Pure Beta alanine with no other ingredients

Free of Sugar, dairy, soy, and gluten

No Fillers

No additives

Vegan and Halal friendly

Price
CONS
Manufactured in China

Small dose per serving
NOW Foods Beta-Alanine Powder
Sale
Now Foods Beta-Alanine powder
Same trusted quality with a brand new look! Packaging may vary
MUSCULAR ENDURANCE*/DELAYS MUSCLE FATIGUE*: NOW Sports uses CarnoSyn, a patented form of beta-alanine that has been clinically tested and shown to increase muscle carnosine content, allowing muscles to work harder and longer during intense exercise.* (Non-GMO, Quality GMP Assured, Vegan/Vegetarian, Kosher, Steroid Free)
The Informed-Sport seal is your assurance that each and every production run of these NOW Sports products has been tested for banned substances by LGC, a globally recognized assurance program for anti-doping in sports nutrition products. In addition to production run testing, Informed-Sport-certified products are also blind-sampled at the retail level up to four times annually, and testing results can be found at informed-sport.com.
GMP Quality Assured: NPA A-rated GMP certification means that every aspect of the NOW manufacturing process has been examined, including our laboratory/testing methods (for stability, potency, and product formulation).
Packaged in the USA by a family owned and operated company since 1968
This beta alanine powder comes in a container of 500 grams or 250 servings of 2 gram each.
The cost is the average price found on the market.
PROS
Price

Supplement powder

Unflavoured
CONS
Doesn't come with a scoop
BulkSupplements Pure Beta Alanine Capsules
For those who find capsules more convenient, BulkSupplements offers this container of 150 grams of 300 vegetarian capsules.
The price of this Beta-Alanine capsule is reasonable.
PROS
Free of Sugar, soy, dairy, yeast, and gluten
CONS
Manufactured in China
Price
NutraBio 100% Pure Beta Alanine
NutraBio Beta-Alanine Vegetarian Capsules
INCREASE MUSCULAR ENDURANCE - Beta Alanine in a beta amino acid that your body uses to increase carnosine concentration in muscles. This can result in an up to 20% increase in work capacity.
INCREASE STRENGTH - By buffering lactic acid and thus reducing muscle burn, Beta Alanine can help maintain strength throughout an intense workout.
PRE WORKOUT SUPPLEMENT - Beta Alanine can be taken pre-workout to make for a more productive workout. Beta Alanine is suitable for Men and Women.
HIGH GRADE - NutraBio uses only the best, and this product is no exception. Our Beta Alanine is non-GMO, gluten free, soy free, vegetarian, third-party tested, certified kosher, and made in the USA.
THIRD PARTY TESTED, FULL DISCLOSURE - Like all NutraBio products, our Beta Alanine is tested by an independent third party lab to ensure it is both pure and meets our strict quality standards. All NutraBio products feature fully transparent labels with no proprietary blends.
When you are vegan or muslin athlete looking for supplements, NutraBio is brand you'll often come across.
Indeed, Beta-alanine capsules are made from vegetable sources with no additives or fillers.
There are 240 capsules per container of 1,600 milligrams and this is the less expensive brand on our list of Beta-alanine capsules.
PROS
Made in the USA

No Fillers, No Additives, and No Excipients
CONS
Skin tingling side effect
Our Best Beta-Alanine Supplement of 2022
NutriCost Beta-Alanine powder is at the same time our best choice and best price on the list.
With a low price per gram and so many good points, NutriCost brand offers the best Beta-Alanine supplement on the market for anyone looking to boost its athletic performance and build a better shape.
What about you? Do you use a Beta-Alanine supplement? What is your favorite supplement brand? Let me know in the comment section below.
And if you find this article helpful, please consider giving it a like or a share.