Best Magnesium Supplement for Sleep, Anxiety, and Constipation
Magnesium is a very powerful macro-mineral that is essential in building strong bones and enabling nerves to function properly. According to the National Institutes of Health, adult females should strive to reach a daily intake of at least 310 mg of magnesium, while adult males need at least 400 mg.
Maintaining a healthy body isn't the only thing that magnesium is good for. It is also a highly effective natural remedy for several ailments, complications, and issues!
The Best Magnesium Supplement for Sleep, Anxiety, and Constipation to Buy in 2019
Preview
Best Choice & Best Price
Details
500 ml Gluten-Free No Artificial Additives or Alcohol
500 mg of Magnesium 1,000 mg of Calcium Free of Artificial Flavors, Sweeteners and Colors
1,035 mg of Magnesium 120 Veggie Caps
434 mg Magnesium 255 mg Calcium
350 mg Magnesium 113 Servings Organic and All Natural
How Beneficial can Magnesium Really Be?
Has it been ages since you've gotten a good night's sleep?
Is constipation an issue that you've become accustomed to?
Do you feel anxious at even the thought of facing an overwhelming situation?
Maintaining the proper levels of magnesium that your body needs can help fix all of these issues and more!
The National Institutes of Health notes that magnesium is beneficial in maintaining a healthy heart rhythm, supporting your immune system, regulating blood sugar levels and maintaining blood pressure levels.
Magnesium's Role in Regulating Sleep Cycles
Registered Dietician Kerri-Ann Jennings has compiled a list of ways in which magnesium can be beneficial to those of us who are in desperate need of a peaceful night's sleep.
When falling asleep it is important for your parasympathetic nervous system to be activated, as it is responsible for calming and relaxing your mind and body.
Magnesium plays an important role in regulating neurotransmitters that your body depends on to send signals throughout your brain and nervous system. This mineral is also responsible for guiding sleep cycles through the regulation of melatonin.
This powerful mineral binds itself to gamma-aminobutyric acid receptors, or GABA receptors, which is the same neurotransmitter commonly found in sleeping pills. These receptors are largely responsible for relaxing our nervous systems.
It makes perfect sense that any of us could fall victim to insomnia when we are deficient in the mineral that plays a key role in regulating melatonin and relaxing our nervous systems.
Related: Role of Iron Supplement and the Best Time to Take it
What Calming Effects Does Magnesium Have?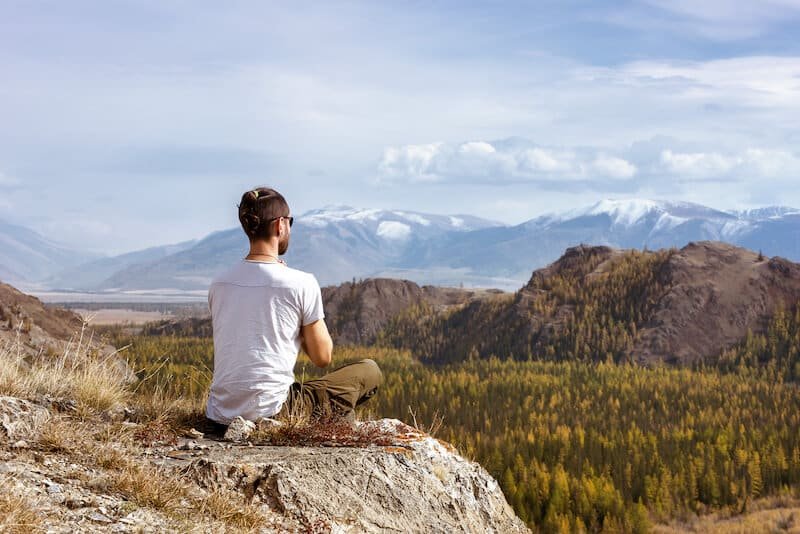 Emily Deans, who holds a doctorate in Evolutionary Psychology, explains why magnesium was the original chill pill. In her explanation, she notes several doctors who have linked magnesium to depression and who even claim that depression is on the rise due to magnesium deficiencies.
Magnesium acts as a protective guard when it comes to the NMDA receptor, protecting it from excessive and harmful levels of calcium and glutamate. Therefore, if we are deficient in magnesium, there is nothing protecting our neurons from being damaged, which can lead to cell death.
Maintaining proper magnesium levels can also help prevent the hippocampus from releasing stress hormones! Can you imagine the impact that pairing endorphin releasing exercise with a magnesium supplement would have on your anxiety levels?
Magnesium is the Natural Way to Battle Constipation
According to Dr. Barbara Bolen, taking magnesium supplements are a normal and safe way to ease constipation and regulate bowel movements.
Magnesium helps regulate the system in this manner by relaxing the intestinal muscles and attracting water. When the amount of water in your colon increases, it softens the stool which makes it far easier to have a bowel movement.
What to Look for in a Magnesium Supplement
When shopping for a magnesium supplement it is important to keep the benefits you want to receive from it in mind. It is also important to understand that what the mineral is bonded to is important, as magnesium cannot be stable on its own.
Naturopathic Doctor Amy Neuzil notes that the most common bonding agents that are paired with magnesium are sulfate, oxide, glycinate, citrate and amino acid chelate.
Magnesium oxide and magnesium citrate are most commonly used as a laxative, while magnesium glycinate and magnesium amino acid chelate are more effective in producing calming and relaxing effects. Magnesium L-threonate can aid in increasing cognitive function and enhancing your quality of sleep.
Which Magnesium Supplements are the Best?
Not all magnesium supplements are created equal; some contain ingredients that aren't suitable for those with food and alcohol sensitivities. Many are designed to bring us relief from constipation, while others are specially designed to aid in stress management and relaxation. Here are my top picks for the best magnesium supplements in each category.
One serving of this magnesium supplement provides 250 mg of magnesium, which is around 60 percent of the daily value. This particular brand is very helpful in maintaining regular bowel activity through supporting proper colon function.
It's an added bonus that Floradix made this product with taste and food sensitivities in mind. The product is free of gluten, dairy, preservatives, alcohol and artificial additives. The honey base is complimented with pear, apricot, and pineapple concentrates and is made even more beneficial with the addition of herbs.
PROS
Halal-friendly

Kosher-friendly

Vegan-friendly

Free of Gluten, Dairy, Preservatives, Alcohol and Artificial Additives
This supplement will give you 500 mg of magnesium with every serving, in addition to 100 percent of your daily intake of calcium! This product promotes the health of our colons, as well our heart and muscles.
Rest assured knowing that Solgar's product is suitable for vegetarians and those with sensitivities to gluten, wheat, and dairy.
PROS
Halal-friendly

Vegan-friendly

Free of Gluten, Dairy, Preservatives, Alcohol and Artificial Additives

Dose per serving

Price
CONS
Presence of

Titanium Dioxide (color)
The name of the company alone lets you know that this magnesium product is ideal for both vegans and vegetarians! Pure Vegan specially designed this product to aid in softening stools to help cleanse the digestive tract of unwanted debris.
Note: Due to the extreme amount of magnesium in this product (1,035 mg), it is not intended to be used as a dietary supplement.
PROS
Vegan-friendly

Gluten-Free
CONS
High dose per serving

Price
After drinking a glass of water topped off with Natural Calm's vegan formula you will soon be enjoying some relaxation from life's everyday stressors. You can choose either an unflavored or raspberry-lemon flavored mixture to deliver a hefty dose of magnesium to your system that will help prevent those anxious feelings from intruding on your day.
PROS
Free of Gluten, Dairy, Preservatives, Alcohol and Artificial Additives

Halal-Friendly

Vegan-Friendly

Organic and All Natural

Price
Not only does NutraSleep contain the daily value of magnesium, it also contains other ingredients that are very powerful when it comes to helping your mind and body unwind after a long day. You can enjoy this relaxing and soothing formula knowing that you won't be introducing any dairy, gluten or meat products into your system.
PROS
Halal-Friendly

Vegetarian-Friendly

Natural Ingredients

Reasonable dose per serving

Free of Gluten, Dairy, Preservatives, Alcohol and Artificial Additives
CONS
Large Pills

No coating and may be difficult to swallow
Conclusion
Not only magnesium is proven to help reduce anxiety, regulate sleep and cure constipation, it can also help you build more muscles.
In fact, a recent study has shown magnesium supplementation to increase testosterone (Well known for its anabolic effects on muscles) levels by 25% when coupled with resistance training.
As for our list of the best magnesium supplements for sleep, anxiety, and constipation, Pure Vegan Mag 07 Oxygen Digestive System Cleanser Capsules is at the same time our best choice and best price on the list.